We received our packets of seeds in the mail a few weeks ago and had been anxiously awaiting the time that we could put the seeds in starter trays and get germinating! But we had to wait until the 'to harvest' days lined up with the best date to transplant the plugs outdoors. Because our last estimated day of frost threat is May 9, we had to work backwards from then – which landed us the last week of March for some of our seeds (mainly tomatoes and peppers) and the 2nd week of April for the 2nd group of indoor start seeds.
I did some searching for ideas on how to make my own seed tray markers, because I didn't want to buy any. There are so many cutsie ideas out there and on pinterest, which I have nothing against. But I'm practical, and with a baby, I need what makes sense, quick, and is from things I have lying around the house/yard. Here are a few cheap ideas that I liked. Obviously some of them are fancy, but the materials used are not. And that is the main point :) And see what we did, at the end!
 5 Cheap and Easy Ways to Mark Seedling Trays
1. Popsicle Sticks
Now these are pretty fancy. I would probably just use an ink pen and write on the sticks. But I like how these look and she gives instructions on how you can do these sticks with stamps or CitriSolv transfer. Pretty cool stuff. And most people have popsicle sticks lying around somewhere. Junk drawer maybe? ;)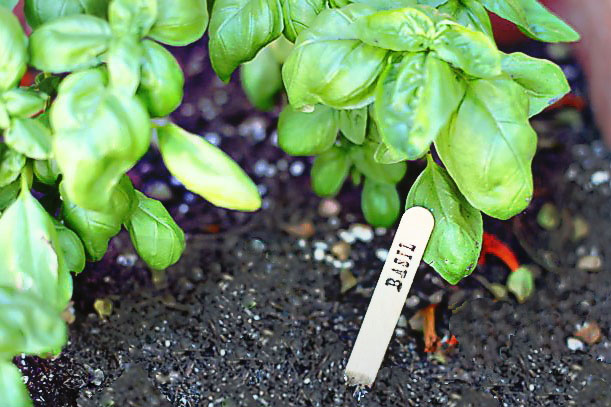 Idea and photo from Little Blue Boo blog
2. Recycled Plastic Labels
I probably would never do this. Not because I don't like it – I think it's awesome and what a cool idea! But I'm too lazy. There, I said it. My favorite part about these is the details she is able to include, such as harvest days and care instructions. And you could easily use recycled plastic containers with a sharpie instead of these templates.
Idea and photo from Merriment Design
3. Toothpicks
I hate to pick favorites, but this is my favorite. ;) At least in terms of creatively and ease combined. It's super cute, but not that complicated. It's still more than I was willing to do this year, but I'm logging it for future years, especially when we have kids old enough to really get into the planting/seedling process. I have lots of toothpicks in my kitchen and although I don't think I have any of the tape she uses, it would be easy enough to cut stips of paper and glue them to the toothpicks.

Idea and Photo from Simply Maggie
4. Old tree twigs
Might as well 'kill two birds with one stone' with this one and make labels PLUS clean up any winter debris from your yard. (FYI – I do not condone bird killing… :)) And who says you need to use stamps to put the names on it? Although, that seems easy enough if you have the stamps. I actually have the exact set this seller on Etsy used, so this would be easy for me to replicate. A sharpie or ink pen would do the trick though.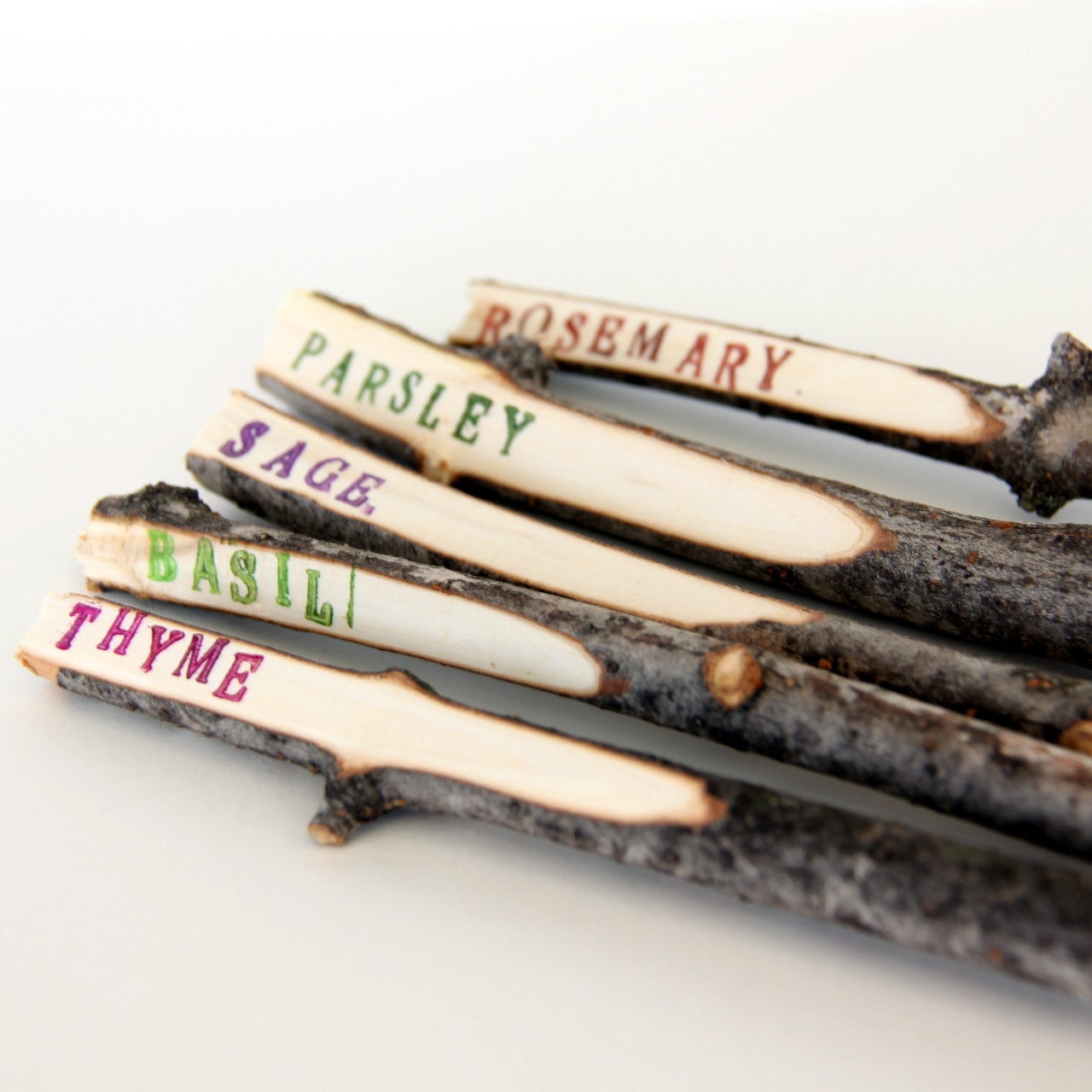 Idea and Photo from noJOisaverage on Etsy
5. Wooden clothes pins
This is what we did! Because it's super easy. There are a lot of nicer looking clothespin label options (just google it or search on pinterest ;)), but we were going for easy.
I have done this many times before and so this year was not different. I love them because they easily 'clip' onto the trays and I can move them around as I need to without disrupting the soil/roots as much. I included the type of seed, the variety, days until harvest, and planting date. You can only see the name on the front though.
How did you mark your seed trays this year?
~Aubree Cherie