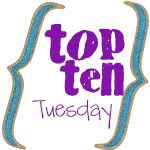 This week I'm participating in the Top Ten Tuesday carnival over at OhAmanda's.com. I found a lot of recipes that I really hope I have time to try soon (because they're awesome!) and so I thought that could be my Top Ten! (Okay, so I also threw in a favorite of my own recipes… :))
The following blogs are all in my reader (plus others, of course!)and I absolutely love following them. I hope you will consider following them too!
_____________________________________________________
Top Ten Recipes from Last week (numbered but in no particular order):

1) Multi-Purpose Pastry Dough
(Linda from The Gluten Free Homemaker)
2) Maple Almond Chicken
(Meg from The Gut Gazette)
3) Homemade Chocolate Chips – gluten free, dairy free, sugar free, soy-free, vegan
(Ari at the Frugally Rich Life)
4) Mocha Cream Cake
(Chelsey from the Crazy Kitchen)
5) Gluten Free Seed Bread
(Lauren from Celiac Teen)
6) Brazilian Salmon and Sweet Potato Stew
(Winnie from Healthy Green Kitchen)
7) Caramel Pecan Bars
(Maggie from She Let Them Eat Cake)
8) The Giant Parsnip Puff
(Manda from Lean Form, Full Health)
9) Roasted Red and Yellow Beats with Avocado, Oranges, Red Onion and Toasted Pine Nuts
(Diane from The W.H.O.L.E. Gang)
10) Pizza Style Omelet
(Me from Living Free)
_____________________________________________
I hope you have a chance to check these recipes out and enjoy looking forward to exciting new ideas, tastes, and twists like I do!